Rapeseed Oil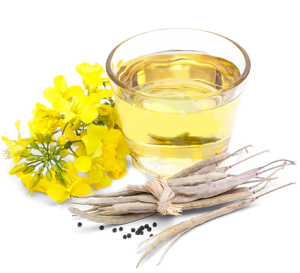 Rapeseed oil is one of the healthiest and the most commonly used oil in many areas of life. It can be used as an alternative to olive oil especially in cosmetic production. It is extracted from rape seeds – a plant commonly grown across Europe. It is favoured by many people due to its beneficial working on human organism and its composition that is rich in fatty acids.
Positive influence on skin and hair has made way for rapeseed oil to gain huge popularity among people who perform oil hair treatment regally.
The product can be applied at bedtime (left on overnight) or just a few hours before washing. It can be rubbed into either dry or damp hair equally. When applied on dry strands, the oil facilitates combing. When applied on damp hair, it shields hair against both harmful working of hot air (produced by hair styling devices) and against solar radiation. Rapeseed oil heals also hair ends, preventing them from dehydration and splitting. What is crucial, this oil does not darken hair therefore it can be used by fair-haired people.
How does rapeseed oil work? Due to presence of fatty acids, vitamins and minerals, the oil makes hair glossy, lush, and well moisturized. Additionally, rapeseed oil softens hair. If we would like to restore hydration to our hair, it is a good idea to apply extra dosage of rapeseed oil right after hair shampooing.
We can prepare rapeseed oil mask for damaged hair at home. In order to make such a cosmetic, you will need a spoon of rapeseed oil, a spoon of honey and an egg yolk. All the ingredients have to be precisely mixed and applied on hair two hours before washing. Basically, it is also a good idea to mix the homemade hair mask with natural yogurt. It is suggested washing down the cosmetic using a shampoo that does not include dehydrating substances like SLS or alcohols.