Marula Oil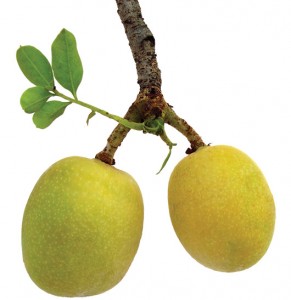 Marula oil is extracted from a tree growing in southern Africa. The oil is produced manually by squeezing it out of marula tree's seeds. When it comes to physical features, the oil has delicate fruit-and-flower flavour that stays on skin long. It is believed to be on a par with argan and coconut oil in terms of efficiency.
What are the other features of marula oil? For example, it is perfect for face and body skin care since it can deal with dehydration superbly.
Despite skin care, marula oil takes care of our hair as well. The product gifts hair with smoothness as it restores gloss to strands. When it comes to the application, it is advised to coat and leave marula oil on strands for a half of an hour. In order to obtain the best possible results, it is suggested conducting an overnight treatment. The period of time devoted to leaving the product on hair depends on the extend of hair damage. When one session of the treatment is over, hair has to be washed with a delicate shampoo. What is also worth pointing out, marula oil neither makes hair flat nor contributes to scalp getting too greasy. Marula oil hair treatment is recommended especially for dyed and extremely damaged hair care.
It is crucial to store marula oil in a tightly closed container (a bottle) either at room temperature or in a fridge. In order to preserve all features of the oil it must not be exposed to sunrays and moisture.
Another key point to mention, marula oil can be added to all care cosmetics, no matter if they are bought in a drugstore or made at home. What is more, the oil is a very light-textured product. What does that mean in particular? It simply does not leave sticky layer on hair or skin. The same feature guarantees fast absorption and immediate nourishment. Moreover, marula oil contains anti-oxidants, which shields hair from harmful working of the external aggressive factors. Another asset of the oil is that it also works antibacterial. For that reason, it is so helpful with the fighting against dandruff and other scalp ailments. There is yet another feature of marula oil that is worth mentioning. This natural product is able to transport nourishing substances from other care cosmetics deep into epidermis or hair. For that very reason, it is so a good idea to mix marula oil with the everyday care cosmetics. Where can marula oil be bought? It is available in shops selling eco-goods. Since marula oil is not so commonly used, it will be rather hard to get it in regular drugstores.