Linseed Oil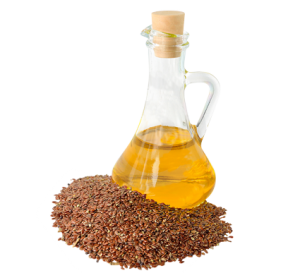 Linseed oil is extracted from flex seeds – the plant that is widely known probably to everybody for its multiple application in many areas of life. It should be both cold pressed and non-refined just to preserve all valuable properties of its. What is more, linseed oil has yellow colour and fairly characteristic flavour. It should be stored in a fridge. What is more, it is advised against exposing the oil to solar radiation.
Linseed oil is recommended for treating mainly low and high porosity hair.
The truth is, not only hair but also body skin can benefit from linseed oil treatment. What is more, this natural product improves also working of digestive, circulatory, respiratory and nervous system as well as it is able to improve working of internal organs.
Linseed oil regenerates damaged hair structure, rebuilds strands fatigued by hairdresser's treatments, strengthens and smooths frizzy hair. Moreover, it is good at counteracting split ends as it deals with breakable strands and hair loss. Linseed oil stimulates hair roots to more efficient work and facilitates growth of baby hair. When used as either an additive to hair masks or as a single cosmetic, it restores shine, elasticity and softens to hair. What is more, the oil has easing working, relieves irritations, and helps with eliminating dandruff.
Certainly, linseed oil can be used for oil hair treatment. To obtain the best results possible, this uncomplicated beautifying procedure should be conducted twice a week. Just a small amount of the product has to be applied on hair – strands should be combed and set in a plait afterwards. Linseed oil should be left on overnight and washed down with a shampoo right in the morning. In fact, this natural product can be applied directly on scalp. In this case, it is suggested removing linseed oil after around an hour of leaving it on. The same manner of application can be followed when putting on linseed hair masks focusing on healing split ends. Mind you, linseed oil can stain clothes therefore it is suggested tying hair up, right on tip of the head, after application of the oil.