Pumpkin Seed Oil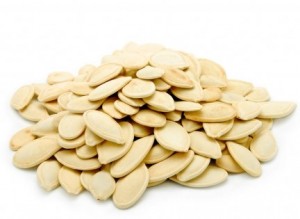 Pumpkin seed oil has dark green colour as well as intensive flavour. Only when cold pressed and non-refined it preserves its nourishing substances, vitamins and minerals. It is recommended for skin, hair and nail care. Pumpkin seed oil does not become stiff in contact with air. If we want to make our hair healthy and strong, we can apply pumpkin seed oil in both ways: form the inside and from the outside. Consumption of just one spoon of the product per day enhances natural immunity of an organism, helps with fighting against parasites of digestive system as it firms and rejuvenates skin. If applied directly on skin or hair, it is able to produce very positive outcomes. Skin becomes firm and radiant, hair, in turn, is sleek and moisturized again. What is more, pumpkin oil seed relieves symptoms of dandruff and psoriasis. When rubbed into hair ends, it prevents damages and dehydration.
Another valuable information is that pumpkin seed oil counteracts hair loss.
Certainly, this information gladdens mostly men. Indeed, women are also welcome to benefit from pumpkin seed oil treatment as well. If rubbed into scalp, the oil strengthens hair, nourishes roots, and activates growth of baby hair.
Pumpkin seed oil can be combined with other care cosmetics that are used daily. A few drops of the oil have to be mixed with a favourite hair conditioner and water. The homemade hair mask should be applied on dry or damp hair, wrapped up with a towel, and left on hair for an hour. Thanks to this procedure, warmth is generated – it facilitates penetration of all nourishing substances deep into hair. At the end, hair has to be washed with a SLS-free shampoo. What are the outcomes of the treatment? First of all, hair is no longer flat as scalp is not greasy. The strands are far from being frizzy or electrified. They are sleek and smooth instead.