Argan Oil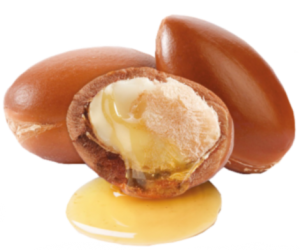 Argan oil is extracted from Argania spinosa nuts, a tree growing in a north Africa. Nuts of the plant are similar in appearance to olives. The shells of the nuts protect oblong-shaped seeds that are the very source of the oil. The process of obtaining argan oil is conducted manually, which is definitely fairly long and mundane procedure. The greatest challenge is faced during crushing the shells. In short, argain oil extraction depends on grinding the nuts and pressing the oil out of them.
Cosmetic argan oil has golden colour and its scent is almost insensible.
Due to its numerous properties, argan oil has a wide range of application. At most, the oil is used in cosmetic and food industry. Food argan oil has a little bit darker colour, delicate nut aroma and, what is surprising, can be used for both skin and hair moisturization equally. Cosmetic argan oil, in turn, has golden shade and can be used as an ally in the fight against plenty of beauty problems such as dehydration. What is more, argan oil helps to regenerate scalp and hair as it facilitates healing many skin ailments like acne. What is also worth mentioning, this oil provides protection form solar radiation. While shopping for argan oil, it is suggested paying attention to all of the above-mentioned features as well as to other indications enumerated on the label (i.e. expiration date and storing).
As mentioned before, argan oil does not only improve hair condition but it also affects face and body skin in a positive way. It plays an important role in skin regeneration processes – for example, it is able to decrease visibility of wrinkles. Additionally, this natural cosmetic has anti-bacteria features, reduces sebum production, as well as regulates working of both sebaceous glands and follicles.
Argan oil is frequently used as an enriching ingredient in shampoo's and hair conditioner's compositions. Use of the oil is particularly recommended for hair that is damaged due to heat styling or application of cosmetics containing aggressive agents (such as ammonia in hair dyes). What are the other properties of argan oil? It helps with eliminating dandruff, moisturizes, and restores gloss to super dry hair. What is more, it prevents split ends and nourishes scalp. Argan oil can be applied on both dry or damp hair. Each single treatment should last up to several minutes – this is how long argan oil has to be left on hair before washing it down with a shampoo. The application should be conducted twice or three times per week. Thanks to regular use, hair becomes sleek, nourished, glossy, and moisturized.
Which argan oil is the best?

The best argan oil to treat hair and skin with is cold-pressed and unrefined. This is the quality we should look for to enjoy healthy, strong and beautiful hair for longer. Also, you can reach for this natural product if you wish to have full of radiance, supple and young skin. Which oil to choose? A good option is offered by Nanoil Argan Oil because it's entirely made of 100% certified argan nut oil – this makes it a full-of-nutrients oil that:

reduces wrinkles
moisturizes skin and hair
increases elasticity and suppleness
is an alternative to face serum
protects against the sun and toxins
soothes skin after sunbathing
restores shine and softness

More information on:
https://nanoil.us/argan-oil